All photos taken by Colin Ong.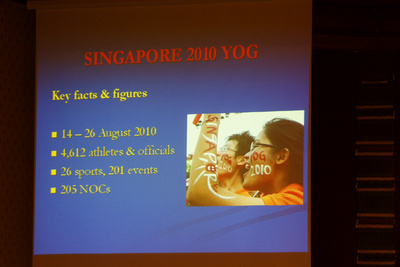 Organised from 19th to 16th May 2009, Chiang Mai, Thailand recently played host to the inaugural 1st Youth Weightlifting World Championships. Featuring a total of 345 girls and boys competing in 15 weight categories, the event was the first official qualifying event in the run up the Youth Olympic Games to be held in Singapore.
The first days' programme consisted of a mix of seminars and briefings for competition officials and team representatives. Also, organized was a Youth Education Programme aimed at the athletes to give them a better understanding of the sport from its technical governance aspect, while also sharing with them the mapping of the sport and its different age group championships and progressions. A key highlight of this seminar was also the IWF's reinforcement of its no drugs policy.
Ranging from the ages of 13 to 17, the competition was an occasion for the sport's future stars to make a mark for themselves. Though there was a mix of experiences showcased on stage, several new records were set during the event, as if it was a preview of things to come at the Youth Olympic Games, considering some of these athletes are bound to take stage again next year.

Making his debut in an international competition, Singapore was represented by Reshveen Rajendran, a 1st year Junior College student, in the 77kg boys' category. While the sport has been fairly dormant in Singapore in recent years, the Singapore Weightlifting Federation (SWF) looks to re-establish itself and the sport in Singapore with Reshveen's participation as the first step of a new beginning.
A full listing of the competitions results can be found here.